Example 1: Hemoglobin
This example will show and explain most of the features that the ProSAT+ web server offers.
At the beginning of a project, the identity of the target protein is often known. Therefore, it is useful to check what is already known about the protein at the structure and sequence level. ProSAT+ helps to do exactly this and goes beyond by including sequence annotations from evolutionarily related proteins. If there is no 3D structure available for the protein of interest, ProSAT+ helps to find an appropriate structure.
Our example protein is hemoglobin and if we know that the PDB id 1j7y contains the 3D structure, we can type the PDB id into the text field and click on 'Check PDB'.
If we only know the UniProt Id, we can search for all available 3D structures via the UniProt accession P69905 and select e.g. 1j7y from the list. In this case, we click on the tab 'by UniProt' and search for the id. A list of all PDB structures containing some structural information is shown and one PDB id has to be selected. If no structure is available for a target protein, a BLAST search will be done and a list of evolutionarily related proteins with 3D structures available will be shown from which structures can be selected.
Here, we use the PDB id 1j7y. After selecting 'check PDB', the structure is shown on the right and information about the respective chains is shown on the left. Select the second residue ("V") in the sequence scroll bar, to visualize the residue in the 3D structure together with the SIFTS mapping information about the numbering in the respective sequences. Here, one advantage of ProSAT+ is visible: the residue numbering in the PDB structure is different from the numbering in the UniProt entry, but the web server automatically maps all sequence annotations on the correct residue in the 3D structure.
Hemoglobin is a heterotetramer that consists of two alpha (P69905) and two beta (P68871) subunits. Here, the sequence features of both subunit types are collected and can be visualized simultaneously in the 3D structure, enabling an analysis of sequence features in the interface between the two subunits.
By clicking on the 'Show features panel' or the ProSAT+ button on the top left of the page, the feature panel will slide in.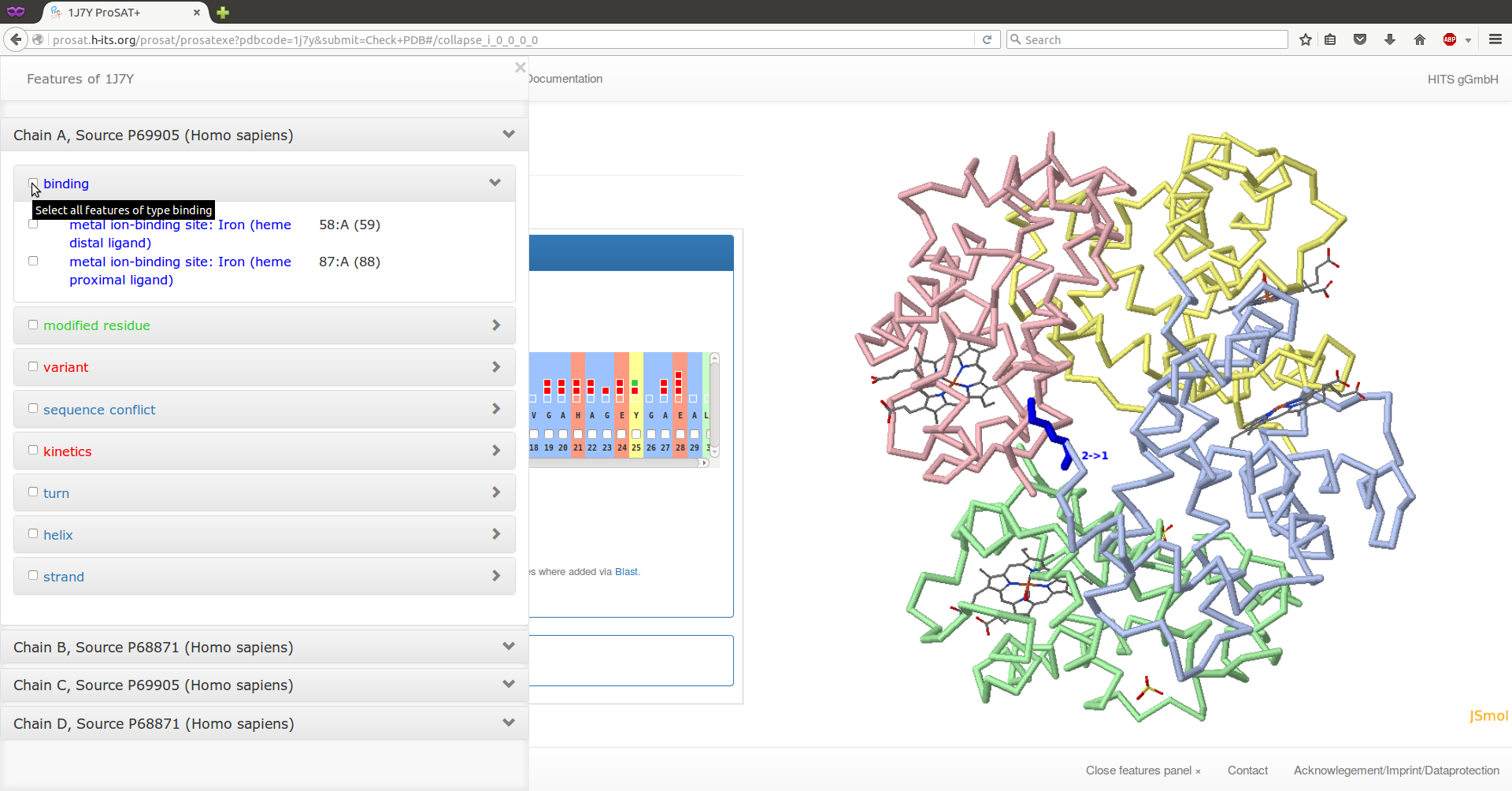 Select the two residues annotated as "binding" on chain C (alpha subunit) by using the drop down lists (click on the arrows on the right). Now the representation of the protein should be changed. Click on the 'Configure JSmol' menu button at the top of the page and select a different representation, e.g. 'Backbone representation with selected spacefills'. The two binding site residues are now displayed as space filling, the protein as backbones, and the ligand as lines.